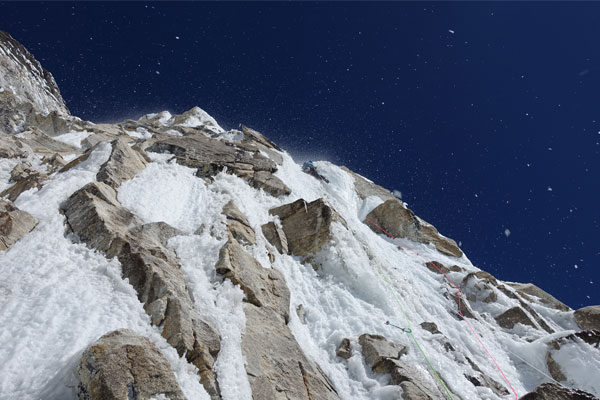 What a great adventure …….
I could not have imagined such a place, fantastic lines of climbing, so remote. This mountain provided me with the opportunity to climb one of the most beautiful and difficult mixed pitches I have ever encountered, at nearly 7000m. Thank you to the Gang du Moustache for bringing me to this place.
This climb was one of the most rewarding journeys in the mountains I have made. Together with a formidable united team we progressed though great adversities. We shared the hard pitches picking the right team member for the moment, supporting and encouraging each other along the way. I feel extremely proud to have been part of this climbing unit.
In the last twelve years I have made nine expeditions, in all but this one, I have made the summit. This trip where the summit remained elusive, has taught me more than the others put together. Success, so close and yet so far away at the the same time. What could be learned from this expedition to Nuptse?
This was the first experience for me at a very high altitude, and I realise now that all the climbing I have done before was considerably easier.
The weather forecasts, wind, fatigue, consecutive bivouacs, stress, objective dangers, altitude, lack of appetite combined with stove that was harder and harder use meant nutrition and hydration were hard to manage, causing a lack of energy. Our sleeping bags socks and gloves become harder to dry out, reducing their performance ans causing small cold injuries to hands and feet. All this whist conditions became more and more extreme. All these factors mixed together is a nightmare to manage.
We were not far from success, finishing at 7,400m but every decision was crucial and we made a few mistakes. It was a bad decision to try, on day five, to make the final 700m to the summit in "one push". We abandoned backpacks with food and shelter and this left us with no backup when we encountered difficulties which took too much time to overcome in the day. We were too cocky, too confident; 700m above 7000m was too hard to overcome. We were not certain of the best way, we ended up encountering steep slopes and extremely steep ice flutes, impossible to protect. In eight hours we only made 300m, not even half the distance we needed to summit. Without bivouac equipment with us it was impossible to stay and make a second try on the following day. This was our biggest strategic error, but when we made this decision it seemed the obvious solution.
I am happy to have shared this experience with my best climbing partner Ben and with Robin and Helias, two young and talented climbers who have become very important to me.
In making this attempt, we demonstrated that climbing this route is possible, but we were also fortunate to have made a attempt and be all four of us back down safely.
This whole experience has encouraged me to continue to learn, and one day to stand on the summit of one of the most technical Himalayan routes.
The South face of Nuptse, a 2000m wall with summits ranging from 7740m to 7860m, has just three lines opened across the entire face, despite dozens of attempts by extraordinary climbers, this mountain has withstood assault after assault.
Our young team, who don't take themselves seriously have tried to break down barriers by attempting iconic route, of technical difficulty and high engagement in Nepal.
Thank you to all those who believed in and supported us. Family, friends, acquaintances, and mountain lovers.
Thank you also to all the sponsors of our team, who believed in us and what we stood for: Petzl, Salomon, la FFME, Julbo, Blue Ice, Sidas, Inreach, Daylong, Scott, Outdoor Research, Moken, Garmin, Simond and Beal.
This has been one of the biggest disappointments for us, but watch this space. We learn quickly! We will come back stronger.
Fred Degoulet